Highly Rated
Avvo 10 rating, Super Lawyer, The National Trial Lawyers Top 100, Best Lawyers, Nation's Top 1%.
Highly Proactive
From private investigations to pre-trial preparation, we take an aggressive approach from the start.
Highly Trusted
Attorney Yum has an impeccable reputation with her clients and colleagues.
Top-Rated San Diego Criminal Attorney
Are you facing a criminal or DUI charge? If you retain the services of the Law Offices of Anna R. Yum, then you are teaming up with a former prosecutor who provides top-notch and aggressive legal representation. At our firm, when people are accused of a crime, we fight to protect their future and freedom. Our goal is to fight for you by providing the strongest possible defense.
The government will be moving quickly to build a case against you. You must act quickly as well. Protect your future by hiring a nationally recognized attorney and her phenomenal team to build your defense. Call today to set up a free consultation. The Law Offices of Anna R. Yum offers affordable rates and payment plans.
Hablamos español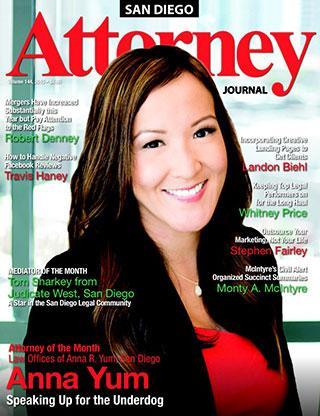 Stand-Out Criminal Defense Services for San Diego
Former Prosecutor
As a former prosecutor, Ms. Yum has the experience and knowledge to know how the government works and thinks. Many San Diego criminal attorneys sit around and try to guess what's going on in the prosecutor's mind, but Ms. Yum has actually been there.
As a former deputy district attorney, Ms. Yum prosecuted cases just like yours. She received a wide range of trial experience when she was specifically assigned to various units at the DA's office including: domestic violence, sex crimes and child abuse, misdemeanors (i.e. DUI, petty thefts, etc.), grand theft auto, general felonies, criminal street gangs, and many more. This type of background provides Ms. Yum with a unique advantage when it comes to negotiations, whether it's resolving a probation case instead of prison or getting charges dismissed altogether.
Most importantly, Ms. Yum's prior experience as a former prosecutor gives her team a unique advantage when it comes to spotting and attacking the prosecution's weak points in the courtroom. Winning a fight becomes much easier when you know all of the in's and out's of your opponent's strategy. Because Ms. Yum was a prosecutor, she has insight that most criminal attorneys can only dream of.
Start Taking Action And Start Winning
Right now, as you're reading this, the prosecution could very well be setting up their plan of attack. Every second you're not taking action is another second the other side has to plot and formulate a strategy to try and get you convicted. Rather than waiting until your first court date, like most defense attorneys, the fight for your freedom starts from our very first consultation with you.
Our firm will fight to give you the best defense possible, but ultimately, the maker or breaker of your own freedom is YOU!
YOU are the only person that can get up and get moving, and take the first and most important step: contacting a highly successful, aggressive, and experienced criminal defense firm.
Take the First Step in Winning Back Your Freedom, Right Now!
As a former prosecutor and veteran San Diego criminal defense lawyer, Anna Yum and her excellent team take pride in trying to get ahead of the train before it gets going. We pride ourselves in being proactive, not reactive. We pride ourselves in formulating an aggressive defense, winning strategies, and investigation on your behalf. The longer you delay in hiring a criminal defense attorney, the more time you're giving the government to plan their attack.
The time for waiting is over. The time for action is now.
Let's take the fight to the prosecution and make sure we do our best to fight for your future and freedom. Ready for a free consultation? Call us right now by dialing (619) 233-4433.
Personalization
Anna Yum works tirelessly on behalf of her clients and she offers a personalization that most attorneys cannot, do not, or will not offer. For instance, if you work with Ms. Yum, then you are working with her alone. Here at the Law Offices of Anna R. Yum, your case will not be passed onto a paralegal or law clerk. Ms. Yum personally handles all of her cases and she establishes a trusting relationship with all of her clients. Here are some of her excellent reviews from clients who praise her work product, work ethic, responsiveness, and winning results.
Client Testimonials
One of the most important aspects in choosing to hire a criminal defense attorney is to do your background research and due diligence. Research is key in assessing the attorney's education, trial experience, number of years of experience, and whether there are any state bar complaints. Perhaps one of the most significant factors in conducting your research is to assess whether an attorney is willing to fight for you and go to trial if necessary. Ms. Yum is an aggressive trial attorney with an outstanding track record who is committed to fighting for her clients. Another significant aspect of choosing the right criminal defense attorney is to assess former client testimonials and reviews. Anna Yum has an impeccable rating on both Google and 10.0 rating on Avvo with respect to clients who have worked with her. We invite you to read her numerous reviews here. You will see that Ms. Yum is tireless in aggressively representing her clients and that she achieves exceptional results. Why is this important? Because results matter… especially when it comes to defending your freedom and fighting for your life.
What Our Clients Say:
Anna is awesome! She is prompt and does what she says she will. Do your part and she will amaze you. Found Anna online with good reviews and very glad I chose her to be my lawyer. Anna helped me to get rid of charges that would otherwise limit my life and now I am able to live with less worries. Thanks Anna!
Derek F.
San Diego
I hired Ana to protect myself from a procedural arrest in which I was innocent. Needless to say that she addressed every question and concern that I had and made this process very easy. She's an honest professional who treats clients with dignity and respect vice a number. Highly recommended to anyone needing a lawyer that cares and can follow up to give you a peace of mind. Great job Ana!
Jennifer S.
San Diego
I referred Anna to a friend of mine who was facing several charges of felony related to child abuse. Anna fought the case excellently and got most of the charges dropped, reduced the rest to misdemeanor and obtained a very favorable outcome. Her knowledge of the system, familiarity with the judges and DAs helped immensely. If you are ever in need of criminal defense, don't look elsewhere. Just hire Anna.
James T.
San Diego
I hired Anna as my attorney for a DUI, and she was not only extremely helpful and informative, but she also was sensitive to the shameful and upsetting experience that goes along with being arrested and charged with a DUI. I would highly recommend her to anyone looking for a strong defense attorney.
Nancy W.
San Diego
Since the very first time I spoke to Anna I knew she was the Lawyer I needed to handle my driving under the influence incident. Having a busy schedule with school and work, I was calm knowing Anna was handling my case. She also made this experience less painful in which I did not have to do any community service. Thank you!
Bill E.
San Diego
Frequently Asked Questions